King William pine verandah posts — a short story
As mentioned, I like to use Australian timbers where possible such as King William pine for soundboards. It is even better if the timber has a story and has been salvaged from another use.
I have a friend, Leigh, who grew up in a small town in Tasmania. He is a very keen woodworker who has a shed full of salvaged huon pine and other Tasmanian timbers. Most pieces in Leigh's shed were collected by his father who scoured the rivers and estuaries for driftwood and collected old timbers from buildings being renovated or demolished in his local town.
At some time in the 1960s, Leigh's family demolished their front verandah to turn the space into a living room. Leigh's father recognised that one of the verandah posts was a special timber, possibly huon pine and saved it from being discarded or burnt for firewood. Years later, the post ended up in Leigh's collection. Early this year, Leigh removed some of the paint off one side and realised it was straight grained King William pine.
Leigh very kindly gave me two lengths of the post for making soundboards. I ripped the first section of the post and joined it so that I could make two soundboards - one for a mandolin and one for a mandola. It was only just possible to avoid the stained nail holes.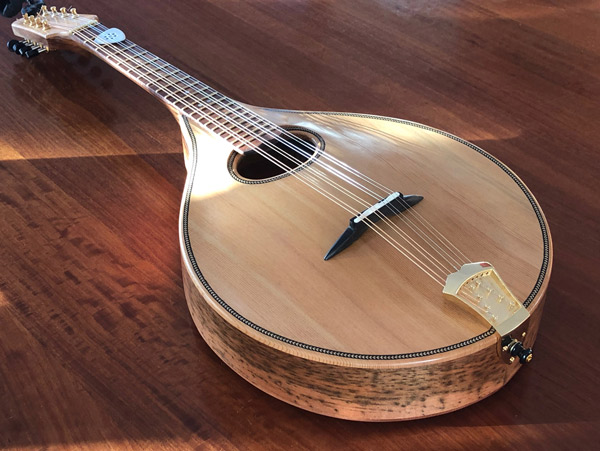 When I showed Leigh the two finished instruments, he said 'My job as a kid was to light the fire in the fireplace (in the new 1960s living room). Thank goodness that Dad didn't give me that piece of post for firewood!'
It gives me great satisfaction to make new instruments from salvaged timber that might otherwise have ended up being destroyed. And the result is two very resonant instruments with very lively and interesting tone. They both ring with bell-like tones and lots of sustain.
I still have a second piece of the verandah post that I am hoping will be enough for two more soundboards. And another interesting huon pine post that has got me thinking about a possible pair of instruments completely made from verandah posts.
Back to About